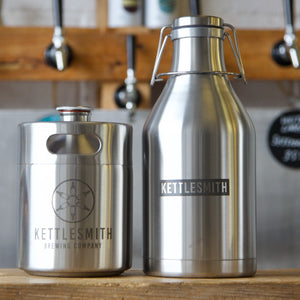 A stainless steel refillable 'growler' mini keg. Buy empty or full and refill at the brewery (or any brewery) with fresh beer. Refills at Kettlesmith cost £10-£13. These are designed for short term beer storage, please don't store beer in them more than a few days and use within 2 days once started. Because of this we don't recommend ordering filled growlers for nationwide shipment. Always store cold!
We have 2 types of growler available - a single walled screw top version and a double walled flip top version. Both hold 2 litres but the double walled version is physically larger. 
about our beer
We brew modern interpretations of a wide variety of beer styles; drawing inspiration from our background in America and England as well as our love of Belgian beer. Our range of beers is linked by its palace, depth and drinkability. We constantly innovate and use our 'White Label' range for one-off experimental batches. All our beers are unfiltered and suitable for vegetarians and vegans.