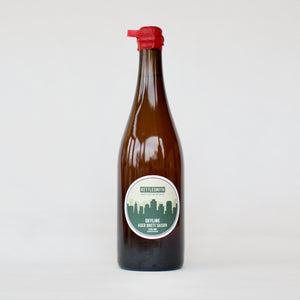 750ml limited release bottle
Special beer releases in 750ml Champagne bottles. 
Aged Brett Saison - 5.6%
A special version of our Belgian farmhouse ale - Skyline, this beer is aged for 24 months with a wild yeast strain that adds extra complexity and a brisk tartness to the finish.  
Note : current bottles don't have wax seals as shown in photo. 
about our beer
We brew modern interpretations of a wide variety of beer styles; drawing inspiration from our background in America and England as well as our love of Belgian beer. Our range of beers is linked by its palace, depth and drinkability. We constantly innovate and use our 'White Label' range for one-off experimental batches. All our beers are unfiltered and suitable for vegetarians and vegans.