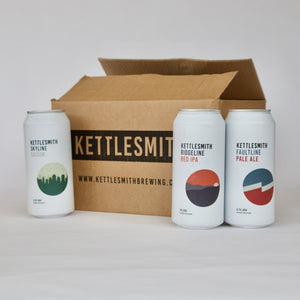 Kettlesmith Case of Beer (12x440ml cans)
Our best-seller, a case of 12 beers. Choose from a specific brand from the drop down list or select the '12 pack mixed case' button above to put together a mix of cans from our range. 
To learn more about our different beers click here.
about our beer
We brew modern interpretations of a wide variety of beer styles; drawing inspiration from our background in America and England as well as our love of Belgian beer. Our range of beers is linked by its palace, depth and drinkability. We constantly innovate and use our 'White Label' range for one-off experimental batches. All our beers are unfiltered and suitable for vegetarians and vegans.