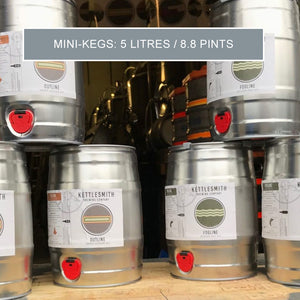 Kettlesmith Ridgeline is a Rye IPA.
Award Winning Beer – Bottle GOLD at SIBA South West Independent Beer Awards 2017. A rich, flavourful American Red IPA. Warming, full-bodied and layered. Explore how the peppery, nutty rye malt is beautifully balanced by the juicy, resinous hops.
ABV: 5%
IBU: 36
Food pairing: Plays nicely with Boeuf bourguignon, cassoulet, spicy bean burgers and firm, tangy cheeses
about our beer
We brew modern interpretations of a wide variety of beer styles; drawing inspiration from our background in America and England as well as our love of Belgian beer. Our range of beers is linked by its palace, depth and drinkability. We constantly innovate and use our 'White Label' range for one-off experimental batches. All our beers are unfiltered and suitable for vegetarians and vegans.